In the context of corporate social responsibility, it has been decided to set up the CO2 performance ladder in order to gain better insight into our CO2 emissions. By creating our CO2 footprint, our most important emission sources have been mapped.
The MSO Group communicates its energy policy, CO2 footprint and reduction targets internally and externally every six months. The level at which the MSO Group deals with CO2 reduction meets the requirements set by the SKAO / CO2 performance ladder for level 5.
A: Insight
The MSO Group has converted its own energy consumption into CO2 emissions to gain more insight into our CO2 emissions per energy flow. This insight into CO2 emissions makes it possible to set effective targets. The CO2 footprint was calculated for the first time in 2020. The footprint is recalculated every six months and communicated internally and externally.
B: Reduction
The MSO Group has set reduction targets to effectively reduce our CO2 emissions. To achieve this objective, reduction measures have been drawn up. These are assessed every six months for their effectiveness.
C: Communication
The MSO Group communicates publicly every six months about its energy reduction policy with regard to insight, reduction and participation in an initiative.
D: Participation
The MSO Group actively participates in initiatives regarding CO2 reduction in the sector or beyond. At the moment this is the initiative: CO2 and KAM Conscious Entrepreneurship Working Group.
MSO Group Sustainability Objective 2023
The MSO Group has reduced CO2 emissions by more than half in the past two years. This reduction is equivalent to the annual electricity consumption of 860 households!
Our ambition is to emit less CO2 every year. This includes the use of vans with solar panels, CO2-efficient vehicles, electrical equipment and awareness campaigns for our staff. The infographic below shows our 2022 figures.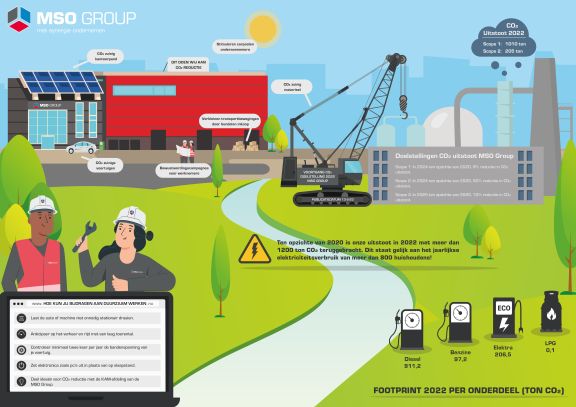 Scope 1:
Heating office and other commercial buildings
Fuel consumption of fleet (company vehicles)
Equipment fuel consumption.
Scope 2:
Electricity for office and other commercial buildings
Business kilometers in private cars
Scope 3:
Reduction of CO2 emissions from goods and services